BeeCurious Curriculum Framework
The inherent curiosity of children is celebrated through Busy Bee North America's innovative BeeCurious Curriculum Framework. This framework recognizes that learning is a delightful and engaging experience, perfectly aligned with the innate curiosities of young learners. By offering choices, guided explorations, and multiple avenues for expression, children are empowered and given autonomy to shape their educational journey.
This comprehensive Learning Framework allows children to delve into the world around them, engaging with their environments and embracing hands-on interactions that fuel their innate thirst for knowledge. It also promotes the development of self-awareness, understanding of others, appreciation for cultural diversity, a sense of global stewardship, and a strong connection to the community and natural surroundings.
By setting this foundation for young learners, the BeeCurious Curriculum Framework cultivates self-aware, open-minded, and well-rounded children who are poised to thrive in our dynamic, diverse, and global society. Through the exploration of their curiosities, children are empowered to become active participants in their own learning, fostering a lifelong love for discovery and knowledge.
Holistic Curriculum
The new Curriculum Framework integrates multi-disciplinary elements to create a holistic approach to learning providing children with a plethora of enriching experiences.
Daily feature activities include Math Discovery, Creative Discovery, Physical Literacy, Language and Literacy, and Building Connections, through which children learn social-emotional skills and their sense of value and belonging in a learning community.

Integrated Activities spread throughout each month include Essential Skills (self-care, self-regulation, problem solving), Sign Language, and Artists of the Month.

Enrichment programs are also featured throughout every week. These include:

Global Citizenship: Activities that honour diversity, celebrate cultural differences, and build a sense of belonging and worthiness

Environmental Stewardship: Activities that guide children to understand the need to care for, respect, preserve and protect all parts of the natural environment

STEM: Activities focus on the embedded domains of science, technology, engineering, and mathematics, building creativity, critical thinking, and problem-solving skills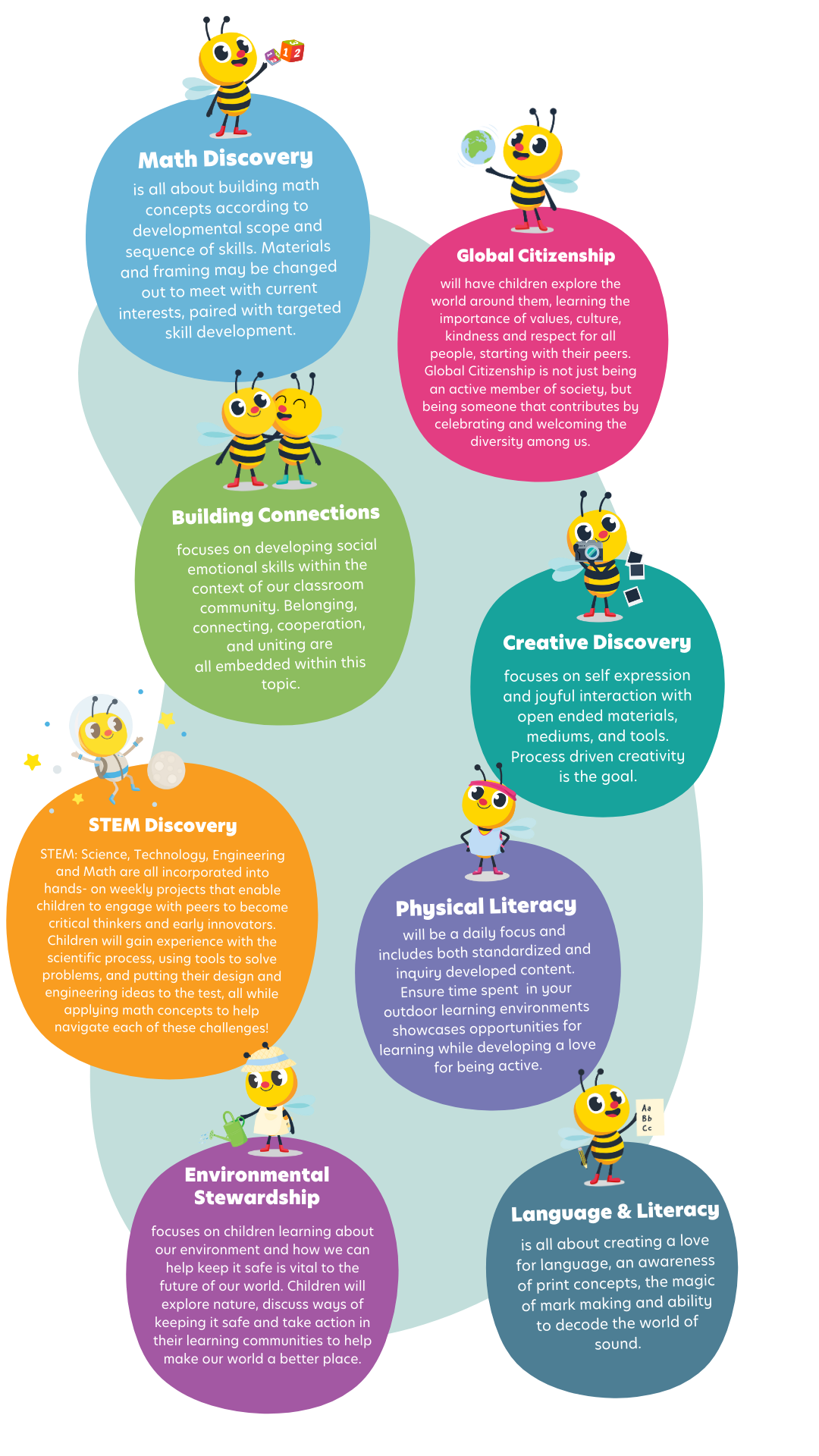 Inspiring Learning Environments
Our environments are intentionally designed with traditional learning areas such as blocks and building, dramatic play, sensorial, and creativity with new added focus on ethnic & cultural, science & nature, math & manipulatives, and language & literacy. Additionally, our environments are created using natural materials, including wood, stone, and recycled plastic to provide children with more sensory-rich experiences while continuing to be an environmentally friendly and sustainable company.
Warm learning areas are created to encourage small group interaction, and more focused, engaged exploration. Learning areas are supported with authentic, real-life items to ignite curiosity and motivation for children to explore.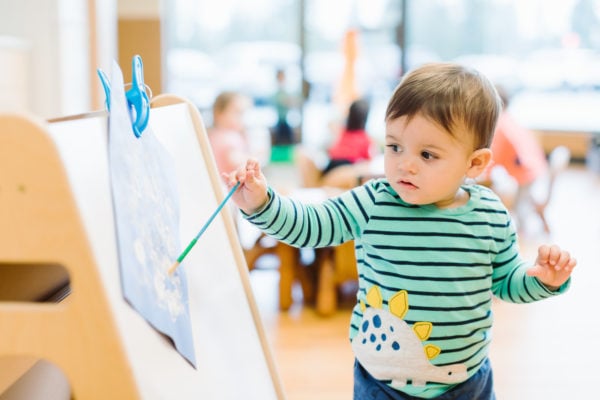 Intentional Teaching Practice
The educator's delivery of this curriculum is fundamental to its success. It includes supporting children to discover themselves and their surroundings, guiding possibilities and nurturing personalized learning discoveries, while broadening social skills and emotional intelligence. Educators will support education that does not separate play from learning but draws upon the common ground in order to promote creativity.